Whether you have been with your other half for years, or a few months, you should know by now that materialistic objects really don't matter. What does? Creative Valentine's day date ideas that allow you to spend time together, and express love through beautiful gestures, not items.
That's not to say you can't express your love with a well-thought-out gift too. After all, everybody loves presents! But the pandemic has proved time and time again that things don't matter, items don't matter, materialistic objects DON'T matter. What matters most are the moments with the people you love, the memories, the experiences you share together when you're out and about exploring the world, or even when you're in your own home.
Forget about the pressure of Valentine's day, forget about 'grand gestures'. The items on this list, although are cute Valentine's date ideas, don't only have to be used on Valentine's Day.
We don't want you to be sucked into this 'day of love'. Yes, it is a time for celebration, yes it is a time to shower your loved one with love, but shouldn't you be doing that every single day? At the end of the day, you're not just limited to this one day of the year. Believe us, it's the little things that count.
Here at DrinkUp, we believe in fun, we believe in laughter, and we believe in creating memories through good times shared with the people we love most. That's why we want you to use our creative couple Valentine's Day ideas list to put your feelings into words with our cute Valentine's date ideas, and then bookmark this article to carry on using it throughout the rest of 2021!
We know, we know, we normally are never so serious, but we're allowed to express ourselves too ok! Anyway, enough with all of the mushy stuff – let's get started!
#1 Enjoy an At-Home Game Day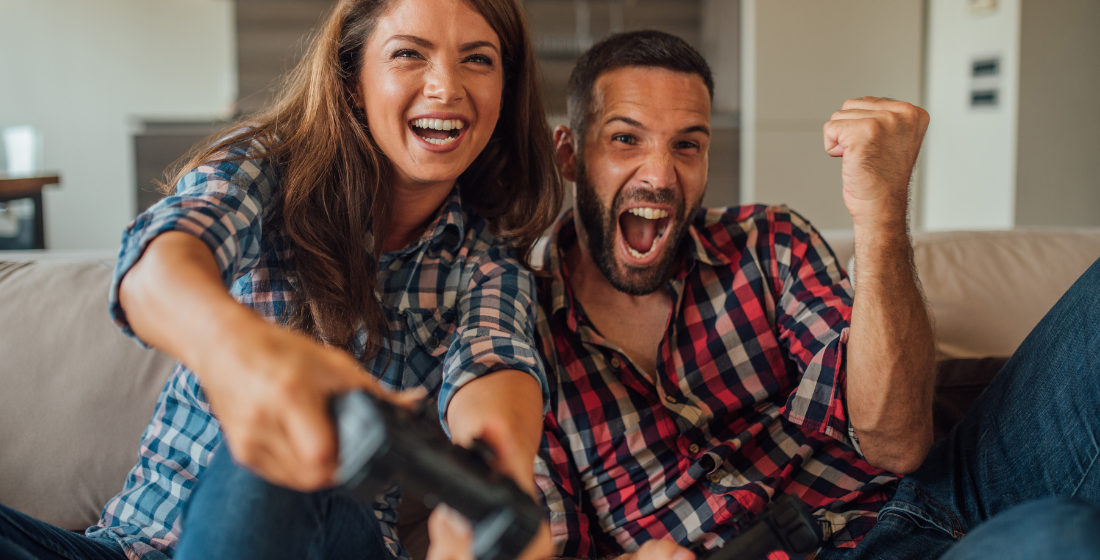 This one is a really simple Valentine's Day idea for him, but the X chromosome (for the dummies, it's the girl) is definitely going to enjoy this creative couple Valentine's Day idea too.
Get the Xbox, Playstation, PC, Wii, VR, and any other gaming console you have, set it all up, and enjoy a FULL day of gaming! Merge into a couch potato, make your favorite snacks, and enjoy a fun game day and night competing against each other!
#2 Go Hiking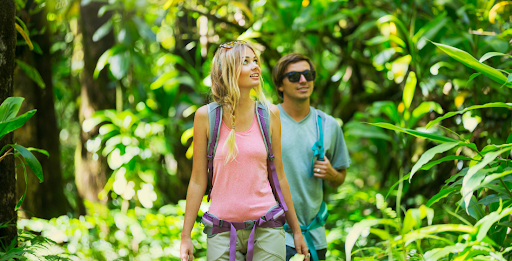 This is a really adventurous thing to do on Valentine's day. If you're having a cold February, then put on your warmest winter coat. If it's warm, then strip down and get ready to explore with your favorite person.
Lace-up your hiking boots, and find a new trail, or hit up one you go to frequently. Either way you do it, you're guaranteed to see some incredible scenery. This is a really cute Valentine's date idea as it will also give you the chance to have some deep, meaningful conversations without any interruptions or distractions.
You can even find a nice spot and have a picnic in front of a beautiful view!
#3 Baking Date
If you both have a sweet tooth, then you can skip the store-bought 'gourmet' desserts and do this creative Valentine's Day date idea instead. Put some fun music on, grab some aprons, and get baking! When done, you can finish the night off by eating your 'delicious' creations, drinking some tea, and enjoy a heart-warming conversation.
#4 DIY Spa Night
A simple Valentine's Day idea for him, but one that she will love you forever for. A DIY spa night is a fun and romantic night, especially if she loves to get pampered but never gets the opportunity to indulge herself.
If this is the case, then make sure as the guy, you pull out all of the stops by giving her some much-needed love. Get your hands to work by giving her the ultimate foot spa, a DIY face mask, and end with a relaxing massage.
#5 Binge Watch
Let's face it, who isn't obsessed with a series on Netflix or Amazon Prime nowadays?
Why not use this really cute Valentine's date idea as an opportunity to have a series or movie marathon. Get your comfiest pair of pajamas on, the microwave popcorn ready, and spend the whole day lazing about, enjoying one another's company.
Don't forget – and I cannot stress this enough – the snacks!
#6 Make the Snow Work for You
If you live in a place where snow is a constant thing during the winter, then lucky you! Although it may seem like a curse, it really isn't. Think about the ski days, the snowball fights, the snow angels, and all of the fun activities you can do together to make the weather work for you.
When you plan your date around the snow, there are so many things to do on Valentine's Day and any other wintery day as long as you have it around you. This is a simple Valentine's Day idea for him and her, but it's also a great way to make memories building snowmen and a good opportunity to smack each other in the face with some freezing cold ice.
#7 Paint Together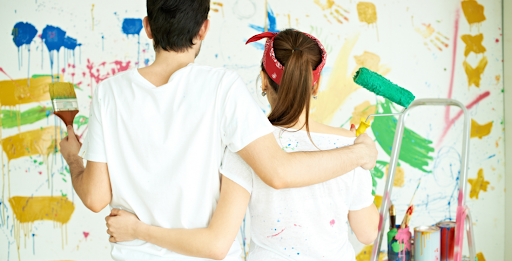 Throughout the pandemic, painting became a huge trend, which is why it would make a really creative Valentine's Day date idea. If you're not so skilled, you can pick up some Paint by Numbers from your local art shop. If you're confident, then gather all of your supplies and invite your date to your home where you can laugh, enjoy some snacks, and paint the night away!
If you don't feel like doing it at home, you can even go to a painting class together. They will supply all of the materials you need, some tips, and yes, foooood! With this cute Valentine's date idea, you're even able to create a keepsake of your relationship whether you're on your first date, or you've been together for 10 years.
#8 Go on a Bike Ride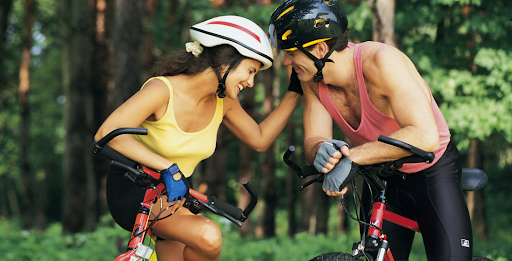 If the weather allows it (or even if it doesn't) get out the bikes, get muddy, and take an adventure in the mountains, dirt roads, or even in your own neighborhood or city. Build new routes, discover some hidden gems together, and spend that quality time you both needed out in nature.
This is a great thing to do on Valentine's Day as it may set the path for more physical exercise in the relationship. It releases endorphins, and makes you both feel amazing breathing in that fresh green air.
#9 Rock Climbing
More of a good thing – rock climbing!
Whether you're both active, love to enjoy the great outdoors together, or neither of you have ever climbed a rock in your life, this creative couple Valentine's Day idea is such a brilliant way to have the maximum amount of fun together. It may seem scary at first, but similar to bike riding, it's a great way to release those feel-good endorphins.
#10 Use an App to Stargaze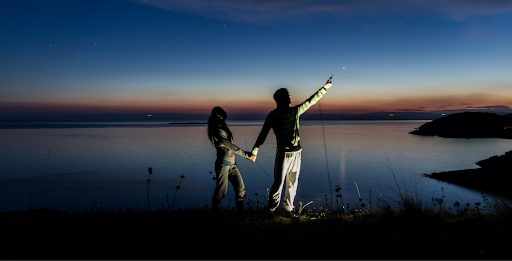 Dress in your warmest clothing, bust out a cozy blanket, and head to a field where there is no light pollution to take some time to admire the universe, with your whole universe. Cheesy, we know.
Seriously though, there are so many apps out there that you can download on your phone that will allow you to see what constellations you're looking at. So why not utilize them to go and gaze at some stars… with your star? Ok ok, we'll stop!
You know what we're going to say… don't forget… the snacks!
#11 A Night in the Woods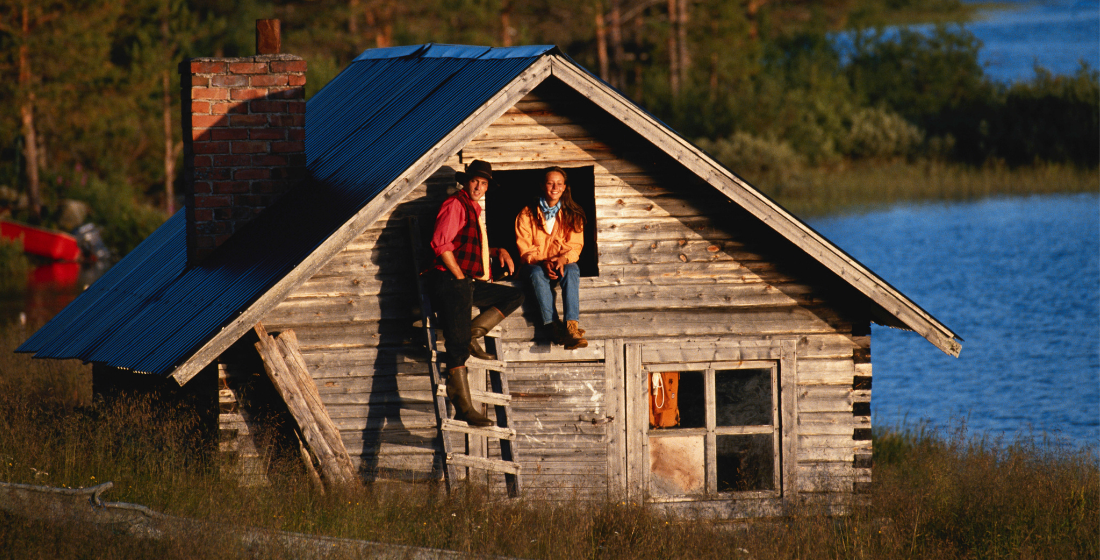 If you've got the budget, then you can book the most incredible night away in the wilderness through the Airbnb app. Take a road trip and travel deep into a forest, next to a lake, even on top of a mountain, and spend the night or even a couple of days with the person you love most.
If a secluded night away sounds like the much-needed break that you and your date need, then use this creative couple Valentine's Day idea, and consider booking your cabin and hitting the road asap.
#12 Camping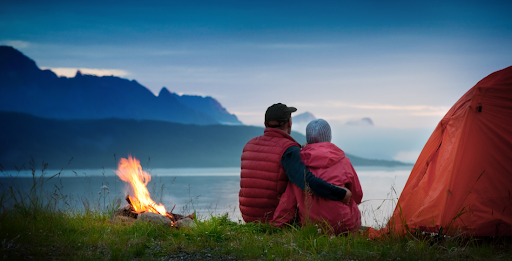 If you have an outdoorsy woman on your hands but don't have the biggest budget to book an Airbnb, why not consider going camping? No large amounts of money need to be spent for you to have a beautiful time together. In fact, the right woman will know that sometimes, a night in a tent under the stars might just be all she needs to feel rejuvenated from the daily stress of life.
Grab your camping gear, some campfire recipes, and have the best night ever with your favorite person ever with this cute Valentine's date idea.
That's All Folks!
So, there you have it, 12 incredible ideas to make your other half fall in love with you again and again. Don't forget what we said at the beginning of this article – moments matter really do matter. Now, stay safe, and remember – have fun, laugh, and make the most amazing memories!