There's nothing quite like having your friends and family over for some quality time spent. There's also nothing quite like them leaving either. BUT, before that happens, you need to fill up their bellies with some delicious party food.
If you find yourself regularly digging through your stash of party food recipes to find something new to make that's fast and easy (just like your husband), then stick around! Because as always, DrinkUp has your back.
We're going to fill you in on some mouth-watering party food ideas to bring everyone together over the love of some of the best appetizers around. Whether you're looking to celebrate an intimate event, or you're simply in the mood for a backyard BBQ, all of your guests are definitely going to appreciate these easy appetizers.
Ready to find out what they are? Well, let's get the party started, shall we?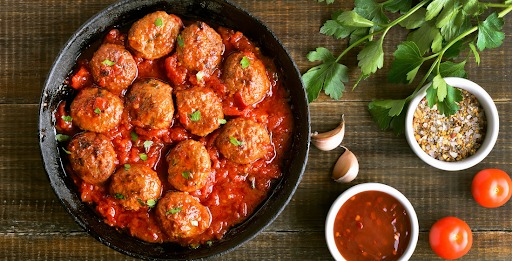 ''That's a spicy meatball!'' – If you know, you know. If you don't – Google it!
This super quick finger food idea can take around 20 minutes to prepare, and is so easy to do. Season it with only the finest Italian spices and parmesan cheese, and trust us, your guests will come to expect tastes of wonder with each bite.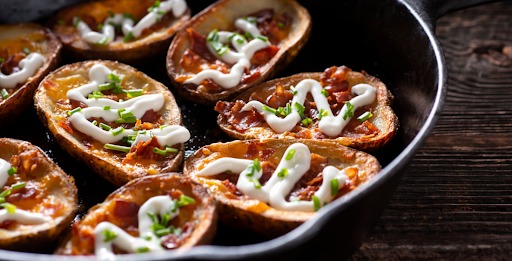 Imagine this party food idea: Russet potato halves…loaded with cheese, filled with bacon and…mmmmmm, bacon. Truly one of the best appetizers out there. Bake them until they're fluffy and tender, then top it off with sour cream and scallions.
Honestly, everyone will go crazy over the taste of the complimenting flavors and textures of the spuds, sour cream, bacon, and cheese. What's more? They're a super easy appetizer to prepare! All you have to do is dump all of the ingredients over the sliced potatoes, and let the oven do the rest.
Bacon and Cheese Potato Skins Recipe
This British finger food idea is most commonly known as pigs in blankets. We know, it's weird, but like the British – it's also straight to the point.
Regardless of the name though, this party food is definitely drool-worthy. Wrapped in puff pastry and fried to perfection, this recipe makes the tastiest sausage rolls you and your guests will ever have in your life.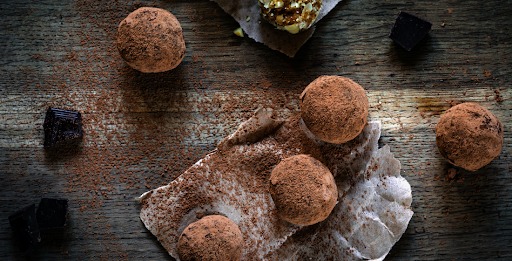 If you have a huge sweet tooth and always try to impress with a bunch of sweet snacks on the table, this sinful chocolate truffles party food idea will highly impress every single one of your guests.
You'll only need four ingredients: chocolate, heavy cream, butter, and vanilla.
Homemade Chocolate Truffles Recipe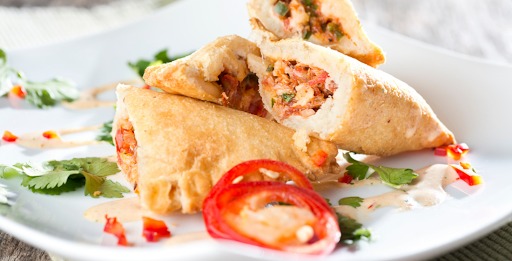 These easy appetizers are a huge hit in Portugal, Latin America, the Philippines, and now, they're also going to be extremely popular in your household. Seriously, what's not to love?
Is it the perfectly seasoned meat or chicken filling? Is it the fact that they're wrapped in a flaky and buttery crust, which is then deep-fried or baked until they're crispy and golden? Is it the fact that you're just a total #hater?
This party food idea is chock full of flavor and will for sure impress your party guests.
Tender beef, melted cheese, wrapped toasted soft tortilla? Yes, please! This certified crowd-pleaser is a must-have party food because it's so just easy to make. All you need is 30 minutes, and you'll get lip-smacking quesadillas, oozing with flavor.
Since quesadillas freeze and reheat well, they're the best appetizer to make days before, saving you a lot of time on the day of your party. Ultimately, making this a delicious recipe.
Steak and Cheese Quesadilla Recipe
This party food recipe with parmesan cheese is to die for. All you have to do is spread parmesan cheese onto a greased baking dish, top it with halved baby potatoes, and pop it in the oven.
Minimal effort, maximum flavor!
Parmesan Crusted Baby Potatoes Recipe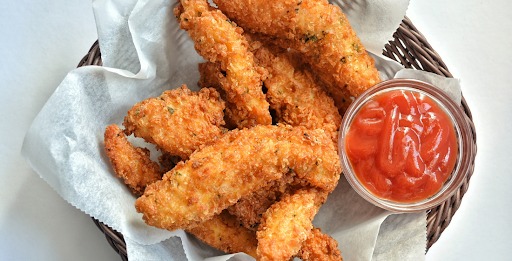 Flavorful meat that's crisp on the outside and juicy on the inside? Who can say no?
That's why when you place a giant platter of chicken tenders on the table, don't expect to see it again when you come back in 5 minutes. Honestly, this party food idea is delicious!
The best part? You don't need special spices and seasoning to flavor it. All that's required is a lil' lemon juice, sugar, milk, and the mouth-watering Frank's Red Hot Sauce to indulge in heavenly flavors.
These jalapeno poppers are from another planet when it comes to party food. The perfect balance of rich, savory, and spicy flavors make this recipe one of the best appetizers around.
Want to know the secret as to why this recipe is extra scrumptious? We'll tell you! But only because you're DrinkUp emperors. So, aside from the cheddar and cream cheese filling, this recipe also includes bits of BBQ potato chips! This caarrraazzaayy addition gives the poppers a crispy and smoky accent that is out of this world divine!
Not as interesting as you thought, right? Well, you can't please everyone!
Another party food recipe for the sweet tooth, this surely is going to hit your dessert-loving guests! Now granted, there are millions of brownie recipes out there, however, this one is definitely our favorite.
Wondering why? As usual, you're probably not, but we're going to tell you anyway. It's simply because it nails that wonderful balance of flavors: it's sweet, but the sweetness is not too overpowering. The consistency is crisp on the edges and fudgy in the center! It's all the things most of us love in our brownies and more.
The recipe calls for basic ingredients, and all you need to do is mix them all together, bake, and wait. So simple!
Let's face it, anything with bacon is great. However, this easy appetizer is the perfect testament that you can never go wrong with. The combination of sweet, savory, and smoky flavors make this a great finger food idea.
All you need to do is wrap pineapple chunks in bacon, stick a toothpick in them, and get baking.
For bonus points, you can even prep this party food in advance. Then refrigerate and heat them up and when you're ready to serve them.
Bacon-Wrapped Pineapple Recipe
A party ain't a party without some booze. Especially when that booze is in the form of jello shots. Sure, you'll never be able to go wrong with beer and wine, but who said you can't creatively think outside the box? And who said you couldn't also include beer and wine?
While not necessarily party food, these vodka jello shots are super tasty. They will also give all of your guests just the right amount of buzz and add even more color and excitement to any celebration.
All you have to do is pick your favorite color of jello and flavor, then just add vodka! (or whatever alcoholic beverage you would like). This party food idea is fun, an easy appetizer, and can be made in any flavor you love. Just make sure you make a good amount, these are known to go the quickest!
Incredibly rich, round, tender, balls. Get your head out of the gutter, we're obviously talking about CHEESE balls! Actually, we're talking MAC and cheese balls. This is one of the very best appetizers out there, and is probably the most commonly used.
This food party recipe has all of the flavors and textures everybody loves in popular comfort food, but just in bite-sized, easy to eat forms. They're also coated in potato chips. The added crunch makes them phenomenal!
As DJ Khaled says – ANOTHER ONE.
Last but not least, another outright delicious alcoholic easy appetizer to make for your party. It's called a carrot cake shooter, and is made out of three different liquors that form an absolutely delightful boozy beverage.
So why is it called carrot cake? Well, that's because the combination of Irish cream, cinnamon, butterscotch schnapps, and coffee liqueur actually make this 'drink' taste a lot like carrot cake.
For more pizazz, serve your carrot cake shooter in a rimmed glass lined with crushed walnuts. Yuuuuuuummmmm!