If you are planning a gathering with some friends, chances are there will be libations involved. Why not take the party to the next level by playing one of the best drinking board games of the year? Drinking board games take two things many of us enjoy – drinking and gaming – and combine them into a fun-filled activity that the whole crew can enjoy. There are tons of different games to choose from, so the sky's the limit when choosing the best game for you and your pals.
Fun for Everyone
Most people enjoy a nice glass of wine, a shot of tequila, or a cold beer, and bringing this pastime together with a game that can be played with friends takes what would be a normal gathering to the next level. Who doesn't want to host that epic gathering that folks are talking about for weeks and months to come?
Shameless plug: Our drinking game app might help in that regard!
While many people enjoy a good drink now and again, others aren't as big of fans, but this doesn't mean they have to be left out. You don't have to drink to play or enjoy any of the games we will discuss below, so don't think you are going to be sitting to the side while everyone else is having fun if drinking isn't for you. These games provide fun and entertainment for everyone.
Games might seem childish, but think about it: how many of us enjoy video games, games on our phone, and the like? Most people, regardless of age, still enjoy playing and this is no different for people in groups. Sure, you can sit around and shoot the stuff with your pals, but after a while, most people run out of interesting stories to regale their friends with, and the party either breaks up or folks have to find something else to do.
Games bring people together in a way that most other activities just can't. They put us all in the same frame of mind and our competitive side comes out and it is a blast for everyone. If you are looking for the best board drinking games on the market, look no further.
We have scoured the internet to find as many drinking games as we could to determine what are the most fun and accessible games out there. Rather than spending half a week looking at different games and trying to choose between them, we have created a rundown here of five of the best board drinking games of 2020. Any of these games will add a humorous or competitive element to your next party and give your drinking a bit of guidance as well.
If you are looking for the best board drinking games for your next party, look no further. What follows is our roundup of the five best board drinking games available in 2020. These will give your party a fun and unique form of entertainment that guides the night and lets everyone let loose and have a great time together.
The 5 Best Board Drinking Games of 2020
There is no dearth of drinking games on the market, but they aren't all created equal. Some of them are simple, others complicated, some expensive, others more affordable. Here, we take a look at our picks for the best board drinking games of the year. The list is, of course, by no means exhaustive, but it covers a range of price points and different game styles. What will work best for you will depend on what type of games you and your friends enjoy, the number of people playing, your budget, and preferences.
Best Board Drinking Game Option #1: Drink-A-Palooza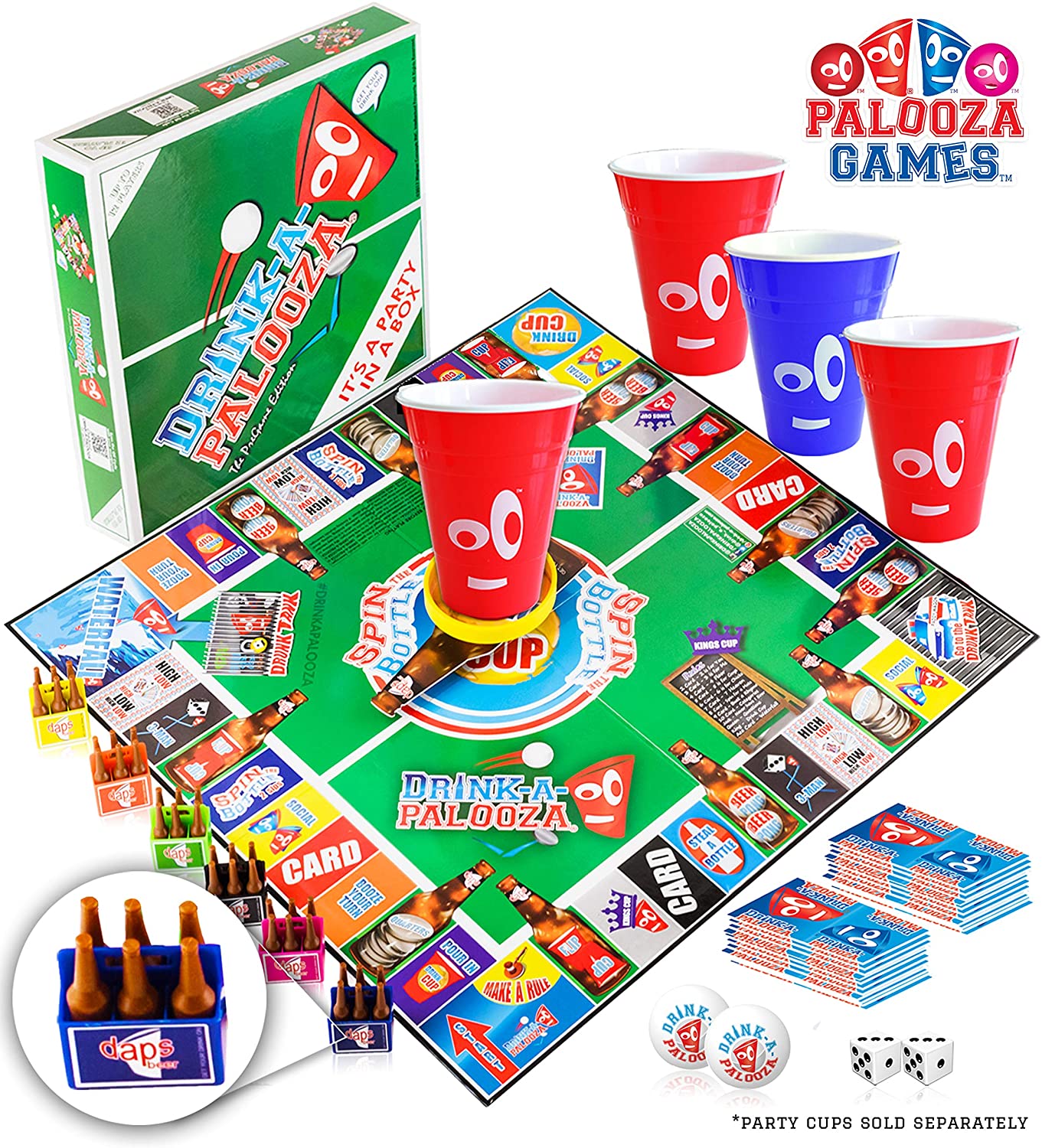 DRINK-A-PALOOZA
Up to 12 players can enjoy this fun combination of drinking games like quarters and beer pong. A game that is sure to be the life of the party!
This is one of the most popular drinking board games available and is a fun combination of drinking games like quarters and beer pong. The board looks similar to a Monopoly board with a solo cup in the middle, rather than different cards.
The game can accommodate 2-12 players. Players will roll dice and move their game pieces around the perimeter of the board, just like in Monopoly. When a player lands on a space, they must follow the directions of the space they landed on.
There are «bottle» spaces on the board whereby you collect mini bottles. The first person to collect a six-pack wins the game. On these bottle spaces, you will be required to play beer pong or perform a cup flip. If you succeed, you get the mini bottle.
There are group spaces as well, such as Waterfall or Pour/Drink which means everyone at the table must down their drink and pour another. As you go around the board, you will be prompted to drink, play beer pong, or perform some other task. It is a great combination of some old party favorites into a cohesive game that will take your party to a fun and highly entertaining new level.
This is a really fun game that combines some of the fun college games many of us used to play with a format that most people are familiar with. It is a fast-paced and entertaining game that will be the life of the party. Reminisce on your college days and show your skills at the games we all played on weekends during our university years.
Best Drinking Board Game Option #2: Telestrations After Dark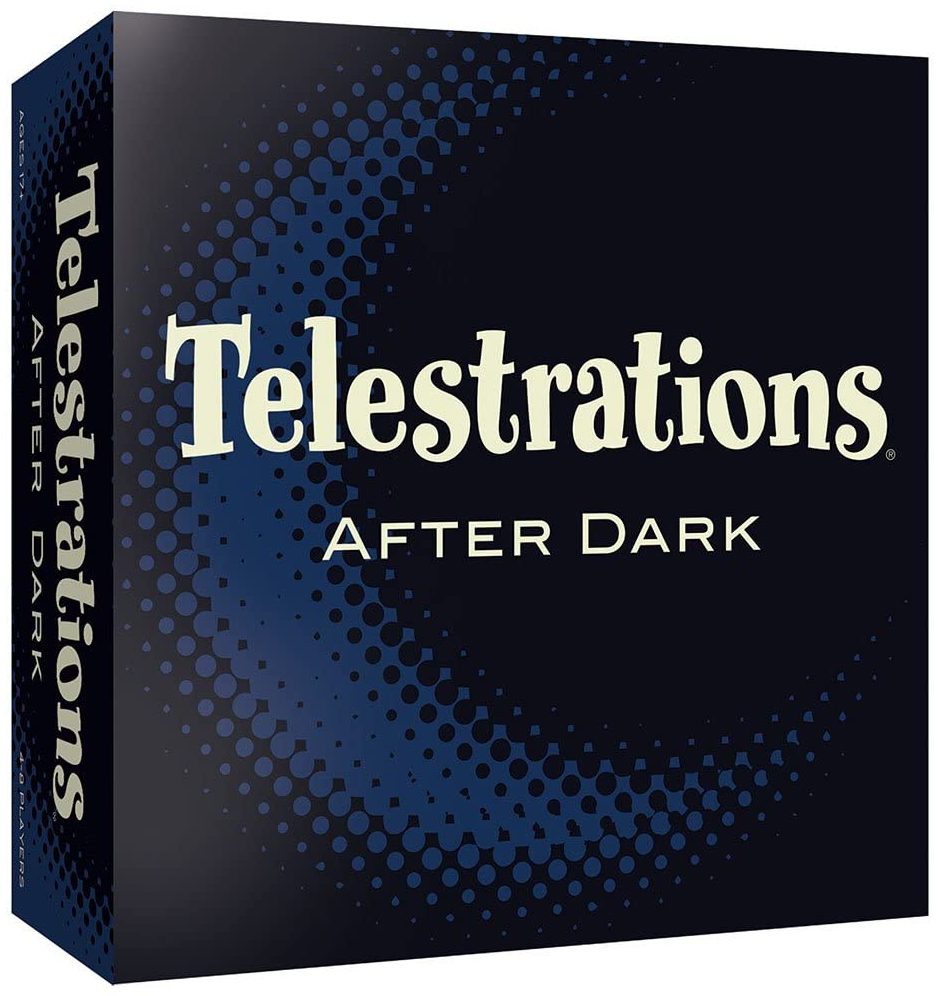 Telestrations After Dark
Not only is Telestrations After Dark a really fun board game – it's also one of the best drinking board games of the year! Drink every time someone guesses wrong. We promise you it happens often enough to kick-start any night.
This is an affiliate link. If you make a purchase, we make a small commission at no extra cost to you. It helps us keep the lights on!
This is an «after dark» game, meant for adults and it is a really fun drinking board game. You draw a picture based on a word on a card and then your friends guess what you saw. Telestrations is a popular game and this is the grown-up version. It is easy to see how this game can be highly amusing as most of us aren't great artists and some words are just plain hard to depict in the form of a picture.
One of the best parts of this game is that it becomes even funnier when people can't draw. Stick figures and creativity are part of the game and the board game comes with everything you need for 8 players.
To turn this adult version of a well-known game into a fun drinking game, all you have to do is take drinks every time someone guesses wrong. And plenty of people will guess wrong.
The game comes with over 1200 words to draw and guess, meaning this game will be fun for a group of friends for many weekends to come. It also comes with erasable sketchbooks, markers, clean up cloths, and a sand timer which marks the minute you get to draw whatever word you saw.
The fun comes when everyone must guess what your word is based on your drawing. This is a blast to play with a group of friends, whether as a drinking game or just a fun way to spend a Friday night. There are family and even Spanish language versions of this game providing fun for people of all ages. The After Dark version is meant for adults and takes from 30 to 60 minutes to complete a game.
Best Board Drinking Game Option #3: Beeropoly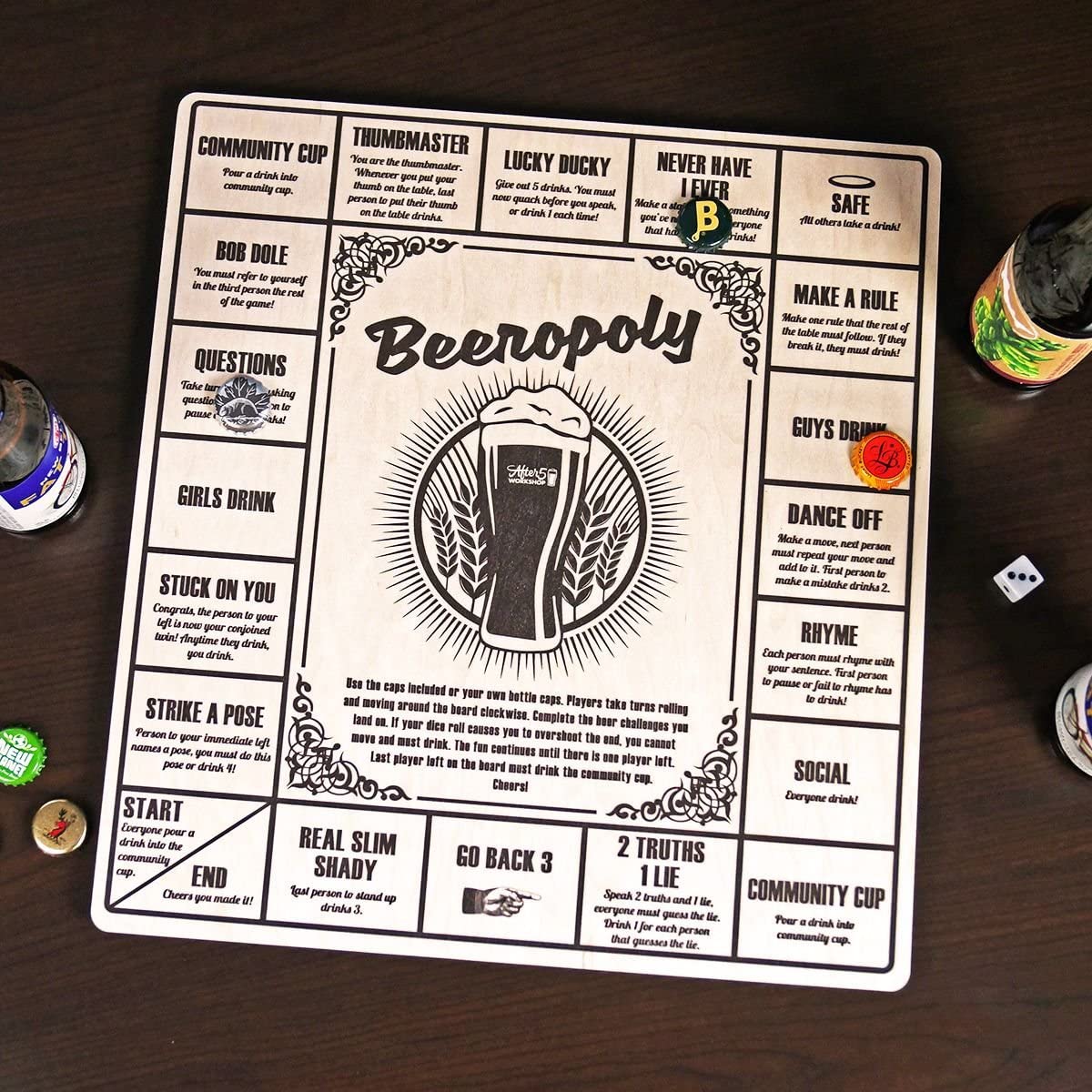 Beeropoly
With cute game pieces and fun directions, this game will keep everyone on their toes. We love the feeling of high quality we get from the wooden board!
This is an affiliate link. If you make a purchase, we make a small commission at no extra cost to you. It helps us keep the lights on!
As the name of the game implies, this is a boozy take on the classic game Monopoly. It is really easy to learn and is a fun way to enjoy a night of drinking with friends. Not to mention, the game board and pieces are very cute.
Just like with traditional Monopoly, you roll dice and move pieces around the game board. Each place has directions as to what the individual or group should do. The gameplay is simple and there is no learning curve, which makes this a fun option for parties with larger groups of people.
The spaces will have directions like «guys drink» or «cheers» (which means everyone drinks). There are a lot of different directions that will keep everyone on their toes. Whether you are dancing, talking about yourself in the third person, or filling up the community cup, every space has something new.
There is more than just drinking directions. For example, there is a «dance-off» space. For this space, you make a move, and then the person next to you must repeat and then add to it. As it goes around the table, the first person to make a mistake must drink. There is a space for «speak truths and 1 lie» and you must take a drink for each person who catches the lie.
The board is made from quality wood and the game pieces are in the shape of bottle caps.
Best Board Drinking Game Option #4: Pass Out Adult's Drinking Game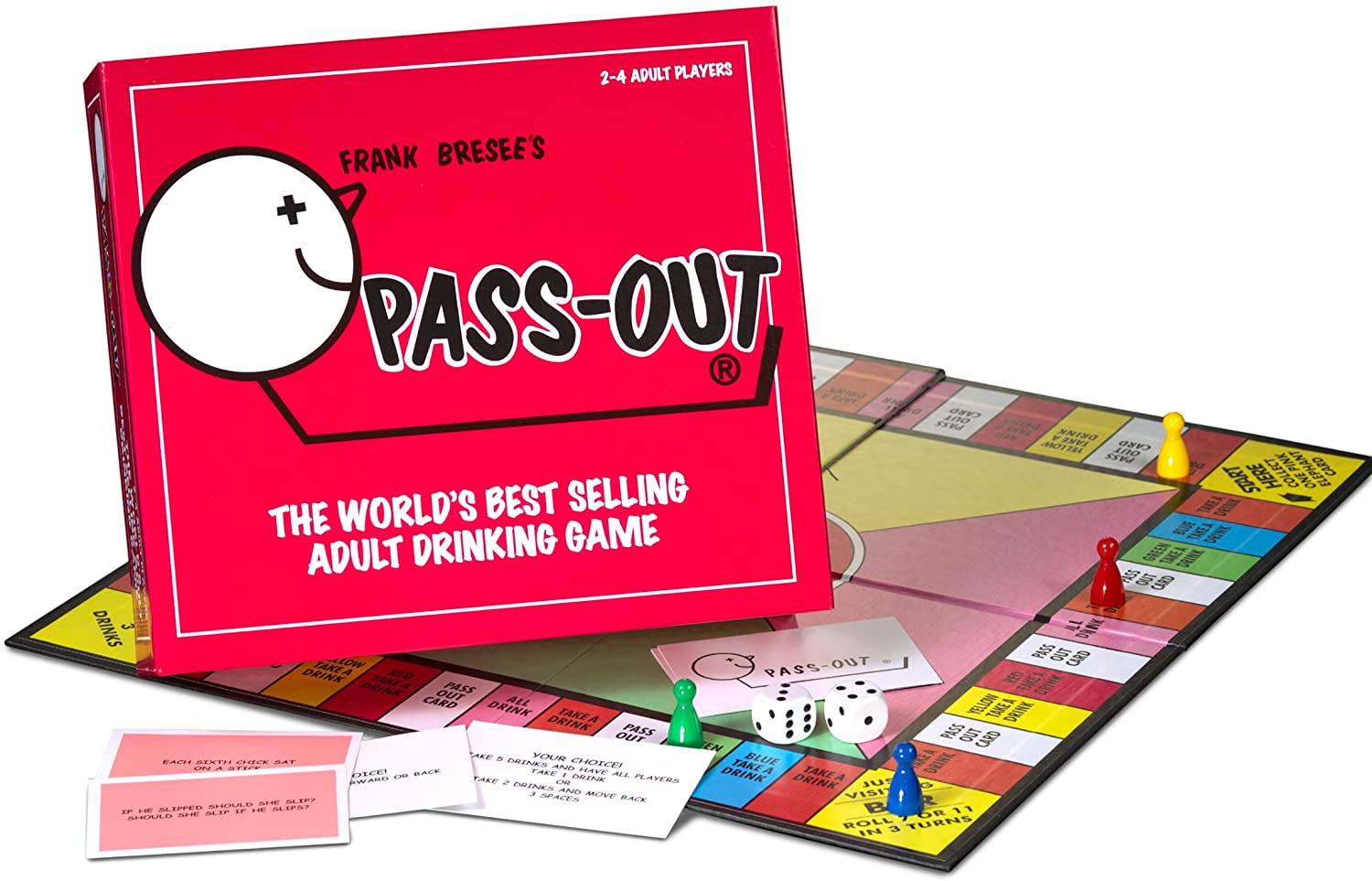 PASS-OUT
Frank Bresee has made one of the best selling drinking board games in the world. It contains tongue twisters and instructions that makes it hilariously fun to play!
This is an affiliate link. If you make a purchase, we make a small commission at no extra cost to you. It helps us keep the lights on!
This is a great drinking board game made by Frank Bresee and is suitable for 2-6 players. This game takes a bit longer to complete than the other games we have discussed here and is a great choice for people looking for an in-depth gaming option.
This is a turn-based game whereby players roll dice and move around the board, following the instructions of each space they land on. Every time a player passes the start square, they take a «pink elephant» card.
Each card contains a tongue twister which the player must be able to recite three times in order to keep the card. The objective of the game is to be the first person to collect ten pink elephant cards. As the booze flows, the tongue twisters become more difficult and hilarity is likely to ensue.
Some spaces will require those with a game piece of a certain color to take a drink or the entire room to take a drink. If you land on a pass out card space, you must answer the question and if you get it wrong, you take a drink.
This is a fun, boozy take on a Monopoly-style game that will have everyone raving. Between the commands to drink and the tongue twisters, this is sure to help you create some unique memories, if, of course, you don't drink so much that you end up doing as the game's name implies: passing out.
Best Board Drinking Game Option #5: MadWish
This game is a unique take on truth or dare that will make for a fun and hilarious evening. The game comes with 250 cards and a spinnable bottle.
To play, each player will spin a bottle and follow the directions on the part of the circle the bottle stops at. The options include, obviously, truth or dare, take a shot, snitch (you pick someone and have them perform an action, and Go. If you land on Go, you will perform a movement and then everyone has to mimic you. The last person to do so has to drink.
There is a card associated with each action except snitch. If you land on snitch, you must pick a person and an action that they are to perform. This means if you land on truth, you will have to answer the question on the card in the truth pile.
Basically, if you don't want to answer the question or perform the dared action, you have to take a shot. There are also places on the circle that simply require one or all players to drink.
This is a great game for a larger gathering and can end up with some unbelievably funny moments and crazy revealed truths. Beware of the cards and prepare to have a blast.
In Summary
If you are planning a gathering of friends and want to do something besides the usual sitting around and telling stories, drinking board games are a great option. The games we describe here are a blast and give your drinking and party a bit more direction than it might otherwise have. These games give you a fun and interactive way to spend an evening with friends and turns what might have just been another Friday night drinking with friends into an evening to remember.
These games are easy to learn and play and make great entertainment for groups large and small. Any of these games will bring fun and excitement to your next gathering. It could be so fun that it becomes a tradition among your friends!
This article may contain affiliate links. If you click them and make a purchase, we make a small commission at no extra cost to you. It helps us keep the lights on!